Book: Essentialism: The Disciplined Pursuit of Less
Why you should read it:  The book is aimed at folks who feel like they have too much work and too little time.  It provides practical advice that I've been trying to adopt and that I've been sharing with the folks that I work with as well.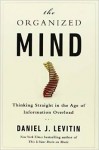 Book: The Organized Mind; Thinking Straight in the Age of Information Overload
Why you should read it:  The Organized Mind is written by a neuroscientist who finds that if you can clear the clutter from your home and office you can think more strategically.
Book: The Power of Noticing: What the Best Leaders See
Why you should read it: In the field of leadership development and executive coaching, a lot of what is preached in the field is just noticing. So often times we live our lives in autopilot that we're not paying attention to the little things. This book is a step-by-step guide to discovering how to gather information.